Biography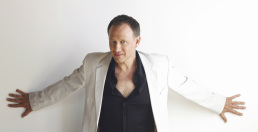 O
ver the past 35 years David Gale has established himself as a rare talent on the stage, on the page, in front of the camera and behind the scenes. He acts, sings, dances and is a comic, a writer, a director, a producer, an improvisor, a teacher and an award-winning television host. David Gale has made a career perfecting his unique gift of cheeky humor with heart. Nowhere is this more apparent than on
Loving Spoonfuls
, the internationally-airing television program which Gale hosts. The series currently airs in the U.S. on
Amazon Prime
and
ION Life
. On each episode of
Loving Spoonfuls
Gale flirts, sings and dances with a different grandmother, playfully coaxing out her family secrets, while preparing some of the world's best loved home-cooked meals. Gale won both a
Gemini
(Canadian Emmy - 5 nominations) and a Galaxi award (Canadian Cable award) for Best On Camera Performance hosting
Loving Spoonfuls
,
Since
Loving Spoonfuls
Gale has produced and hosted
W Network
's series
Second Time Around
and a pilot for a daytime talk show called
The David Gale Show.
Gale honed his talents early. Growing up in the ultra-creative north-end of
Winnipeg
, Gale began acting as a youth and appeared in
The High School,
Joseph Stein's
Enter Laughing
, and received his first critical success at age 16 playing Peter Van Damme in
The Diary Of Anne Frank
. As a teenager Gale's songwriting skills emerged and he twice won top prizes at his school's annual song festival. He graduated from a Winnipeg's
Joseph Wolinsky Collegiate
and went on to study Theatre Arts at the
University of Minnesota
in Minneapolis starring in many university productions.
Gale moved to Toronto in 1979 to further his career. He quickly became a part of
Theatresports
and Toronto's burgeoning improv comedy scene and regularly performed with Mike Myers and
The Kids In The Hall.
He created and performed with his own improv comedy troupe
Club Improv
through the 1980s and is still performing with improv troupes across Ontario.
On film Gale appears in
Portrait Of A Serial Monogamist
and he gave a revealing performance in the award-winning AIDS musical
Zero Patience
. A publicity shot of Gale in
Zero Patience
hangs in Terminal 3 at Toronto's Pearson Airport as part of a
Toronto On Film
display. Gale has been featured in a variety of TV programs including
Suits
,
The Listener
Degrassi TNG
,
Beauty & The Beast, The Tournament, Puppets Who Kill,
and
Nikita.
Gale had a recurring role on the original
The Newsroom
.
An accomplished stage actor Gale has performed in comedies, dramas, and musicals with highlights being
Unidentified Human Remains and the True Nature of Love
The Y
iddish Radio Hour, The Fantasticks,
All Out, What The Butler Saw
and
The Pirates of Penzance
(Stratford.)
He has dozens of commercials under his belt and has done voice work for hundreds of films and television shows including
Less Than Kind, Little Mosque On The Prairie, Barney's Version,
Chloe, The Fountain,
and
A History of Violence.
In 1989 David joined forces with composer/writer/performer Randy Vancourt and created
GILBERT & GLICK,
a singing, songwriting comedy team. They've performed together in theatres and clubs across Canada ever since. In 1993 they penned the hit musical comedy
Chutzpah à go-go
,
which won rave reviews, a
Dora
Award and has played to sold out houses in
St. Paul, Montreal, Winnipeg
and
Toronto
.
As a solo performer Gale's sexy and funny
Elvis Shmelvis
has left audiences
"plotzing"
and swooning at the
Ashkenaz Festival,
and
Spiegeltent
in Toronto and at other venues across Canada. Gale won over live theatre audiences hosting Toronto's Theatre Awards
The Dora Mavor Moore Awards
in 2006 and the alternative theatre awards
The Harolds
in 2003, 2009 & 2010.
In 2006 Gale had the honor of
emceeing the live simulcast launch of the Canadian Opera Company's Four Season's Centre, introducing
Toronto's then mayor
David Miller
to two thousand opera enthusiasts at City Hall outdoor square. For four years Gale moderated The
COC's Opera 101
where he conducted live interviews with an array of international opera stars including the witty and irascible writer
Margaret Atwood
(
A Handmaid's Tale – The Opera.)
Drawn to the volunteer world, Gale trained with the
Distress Centre.
Using his hosting skills for good, Gale helped raise hundreds of thousands of dollars for a myriad of causes hosting fundraising events for organizations including
The Miles Nadal
JCC, Kids.Now, Beit Halochem, Casey House, The Breast Cancer Quilt, Tobias House, Toronto Dance Theatre
and
Buddies in Bad Times Theatre.
As a theatre director, choreographer and teacher Gale has put his unique stamp on a variety of productions including
Bye, Bye Birdie, Godspell, The Me Nobody Know, Dads
and
"I Slept With Tony Trouble"
(performed across Canada and at the Edinburgh Fringe Festival) and has taught improv, acting and musical theatre at schools and Universities across Canada.
As a writer Gale co-wrote half a dozen musicals for his comedy duo
Gilbert & Glick.
His solo play
Pop
was commissioned by and produced at the
WJT
in Winnipeg. Gale regularly contributes to ACTRA Toronto's
Performers Magazine
and in 2008 became its publisher. He also wrote for
The Loving Spoonfuls Cookbook
(Penguin.)
Gale was elected to the
ACTRA Toronto
council in 2006 and has proudly served as Chair of the Conference Committee, VP Member at Large and currently as
Vice President: Communications.
Gale sat on the board of
The Academy of Canadian Cinema and Television
as performers' rep for two terms and since 2006 has sat on
ACTRA National
council.
His greatest production to date is his son.
---
SELECTED Resume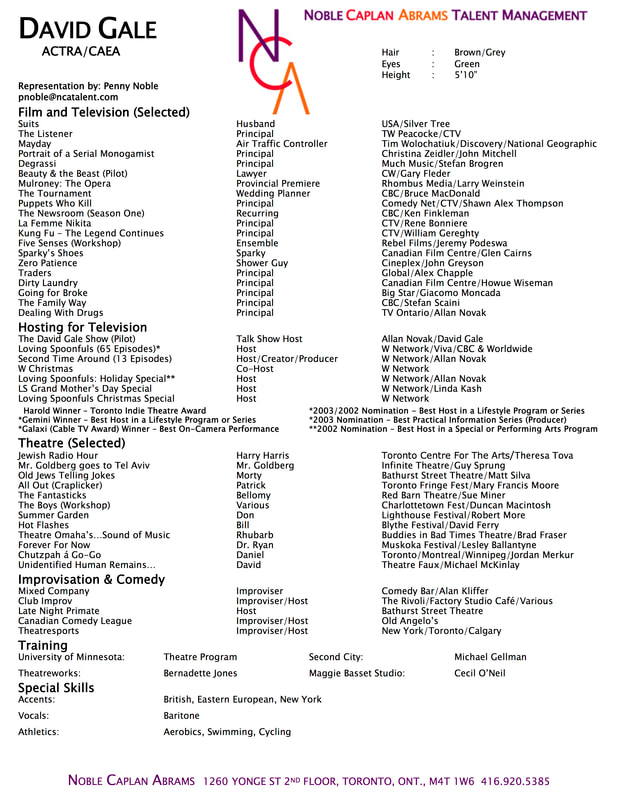 Selected Press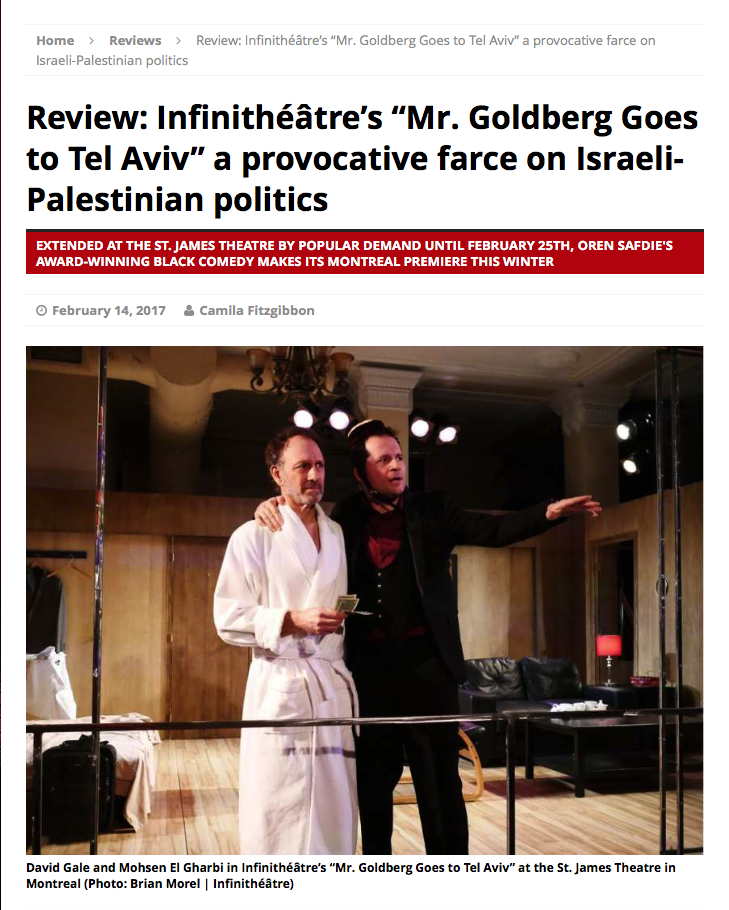 "Gale instantaneously garnering hearty laughter for his comical portrayal
​of the quick-to-condemn but charismatic title character."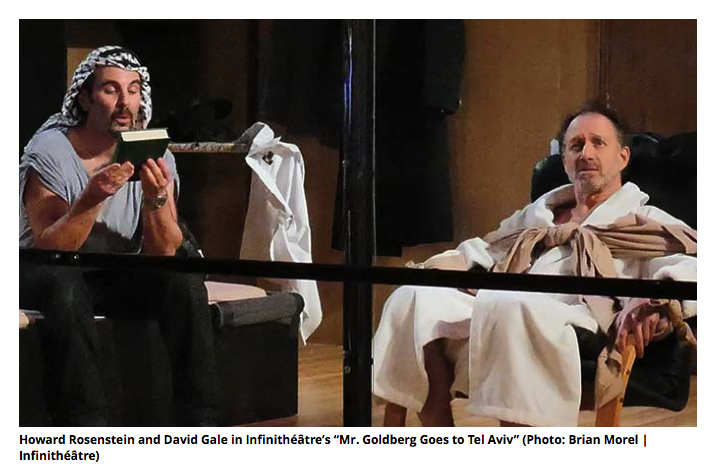 As its indicative title suggests, the play revolves around renowned (but herein fictitious) Canadian author Tony Goldberg
(played by David Gale)
who has arrived in Tel Aviv to ostensibly present a speech about his latest book at a scholastic convention. A left-leaning intellectual gay Jew from the diaspora, he's got a bone to pick with the Israeli authorities, impudently criticizing their policies on the Palestinian conflict. He's loud, he's proud, and he drops as many f-bombs as there may be dynamite explosives lurking in forbidden corners of the coastal Mediterranean city....
...Although Safdie's provocative script and the energy of the veteran male ensemble of Gale, El Gharbi, and Rosenstein render Mr. Goldberg engaging throughout, the one-act play is arguably most enjoyable at its lightest and purest, – the outset – with Gale instantaneously garnering hearty laughter for his comical portrayal of the quick-to-condemn but charismatic title character
(a nod to Cassandre Chatonnier's compelling set design and Andrew Scriver's lively video projections for also arousing the senses early on).

CLICK ABOVE PICS FOR FULL REVIEWReview by Montreal Theatre Hub Editor-in-Chief Camila Fitzgibbon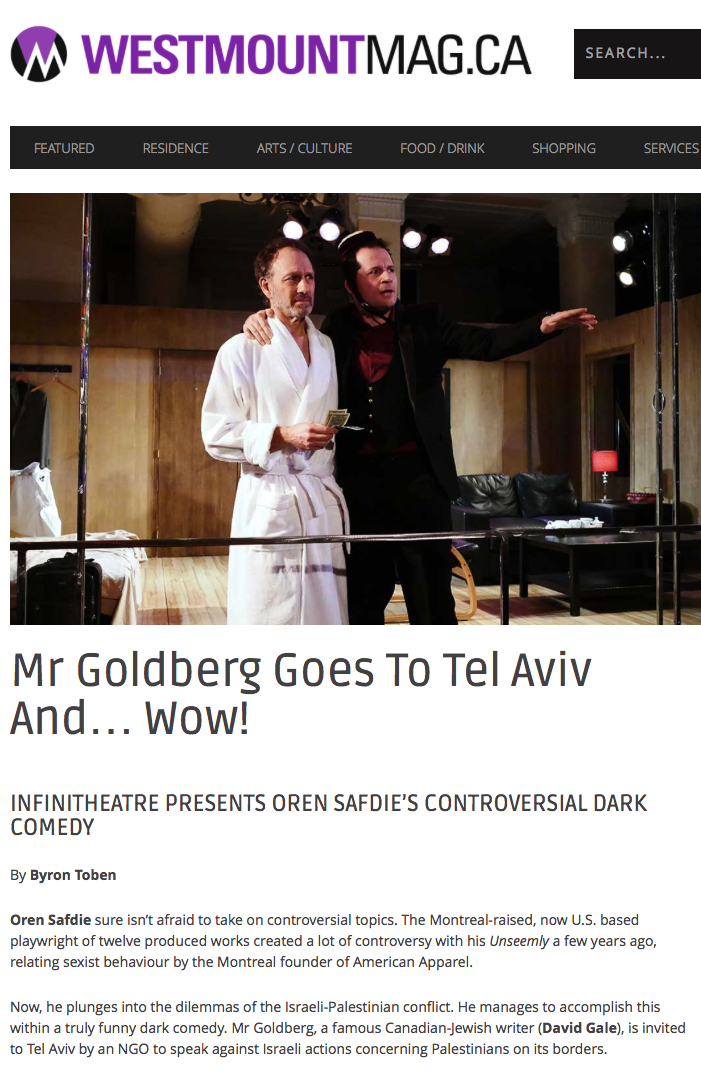 Click above for full review
"There's some lovely interplay between David Gale's self-indulgently bristling Tony and Mohsen El Gharbi's ever-smiling room-service provider, and when things go south, there's a certain exhilarating frisson in watching how far Safdie is prepared to push it, both in terms of saying the unsayable and of topping the bloody excesses of Jacobean theatre..."
Jim Burke, Special to Montreal Gazette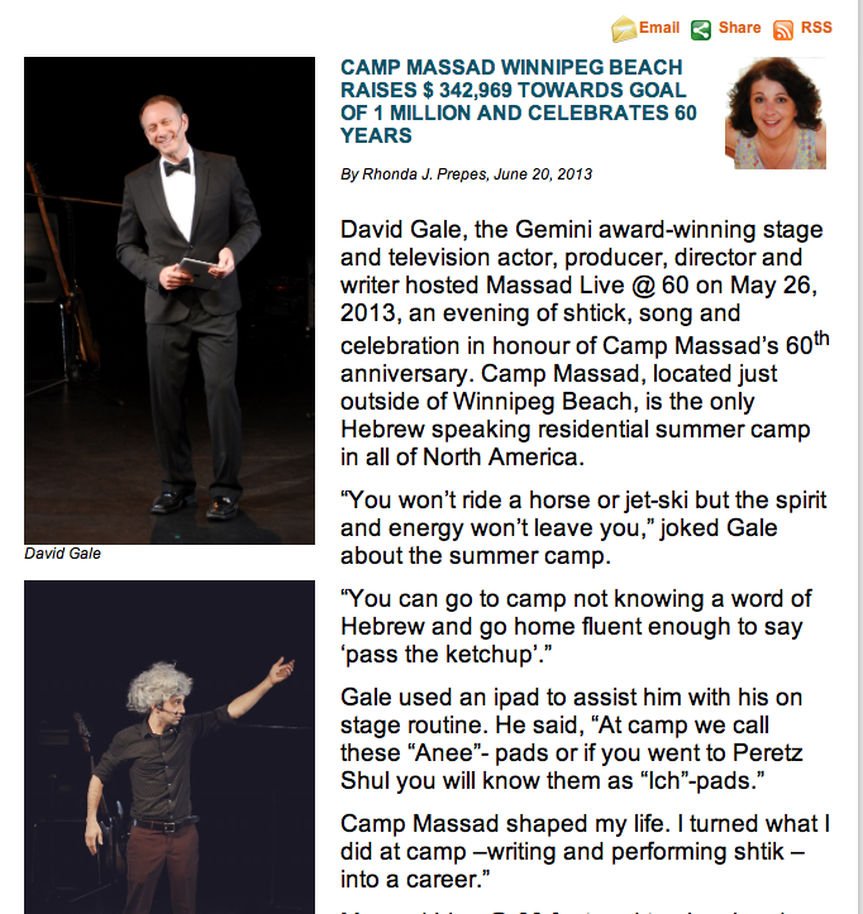 ---